Check if your Reaver Race rules are still up to date on the download page.


Introduction:
Reaver Race is a racing and fighting game for 2 to 6 players. Each player is a jetbike pilot who tries to win dizzying races by all means. Players adjust their dashboard to pilot their machine and make the most of it to knock rivals around.
Aim of the game:
Pass the finish line the fastes possible and possibly making some victims to get victory points. The one who got the most victory points wins the game.
Game proceedings: 1 - Track set-up
2 - Profile set-up
3 - Starting order
4 - Game turns (initiative, movement et aggression )
5 - End of game and ranking
Players profile and dashboard: All capacities, riding parameters, initiative, health and score of a player are represented on his dashboard.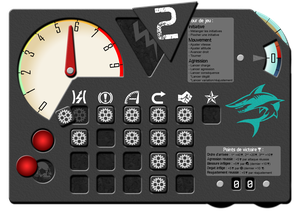 Turn phases:
- initiative phase: determine players order during this turn.
- movement phase: adjust speed and altituse, move and turn.
- aggression phase: charge an opponent to aggress him, and he will try to readjust


If you want to participate to this project or simply test it, then enjoy and talk about it!
Note: I am currently looking for a game editor.


Reaver Race is an independant and no competitor to Games Workshop. Please, respect game's origins, thanks.